" People can do whatever they want if they just set their heart to it, and just never give up, and just go out there and do it."
This quote was given not by a mathematician, an artist or a freedom fighter. This person is an inspiration to others by doing what she loves, even when a tragic event turned her whole life upside down. She is a pro surfer, a survivor, and a heroine with an attitude that will get her and her followers to the top of any wave. This inspirational person is Bethany Hamilton, a victim of a violent shark attack that took her left arm, but it did not take away her spirit and faith.
Hamilton was born in North Shore, Kauai, which is a small island in the state of Hawaii. She was born with "salt water in her veins" because both of her parents were enthusiastic surfers. She started surfing when she was 5, under the guidance of her own parents. Her surfing skills progressed very quickly and, when she was in grade school, she entered into a push-in contest and won 1st place. She entered various contests during the years and she became a Ripcurl girl and won first place in the 17 under girls contests while competing against girls had many more years experience. She never stopped striving to reach her goal. To ultimately become a world champion surfer.
It was a sunny Halloween morning in 2003, when 13-year old Hamilton went out surfing with her best friend, Alana Blanchard and Blanchard's father. Bethany decided to surf at Tunnels Beach, Hawaii, even though the waves were not a real challenge for her. As Hamilton lay on her surfboard waiting for a wave with her left arm hanging from the side, a tiger shark attacked her without any warning. It took a seventeen inch wide bite out of the surf board and her arm. In the ferocious fight for her life, the shark tore her entire arm off just below her shoulder before vanishing. Hamilton quickly swam to shore only using her remaining arm and Blanchard's father used a surf leash as a tourniquet to help stop her from bleeding to death before she was rushed to a nearby hospital. This incident seemed to end Hamilton's goal of being the greatest woman surfer and it almost ended her life. She had lost almost 70% of her blood that morning, but she didn't give up the fight to live.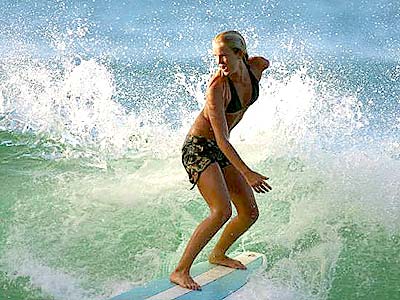 Even though the event she lived was traumatic, Hamilton didn't give up on her dream. Just ten weeks after the accident, the determined teen surfer went back to the ocean to relearn how to surf. With a new surf board created so she could paddle with ease, she taught herself to not only adapt to the board, but also adapt to the rough sea out there with only one arm. After only a couple of practices, she started to surf competitively again. That year she placed fifth at the National Surfing Championship and joined the United States National Surfing Team. Hamilton won the 2004 ESPY award for "Best Comeback Athlete." Her dream was never lost because she had the determination to pick herself up and ride the wave.
Hamilton used her experience and has become an inspiration to many people around the globe. Between training, she travels to other countries as a motivational speaker to encourage them to conquer hardships and to follow their own dreams. She also wrote her own autobiography, titled Soul Surfer, which was released in 2004. In this national best seller, she describes how she fought her way back to surfing after the incident and how she never lost faith in God. The book will soon be a movie which is still being produced. Hamilton also won the special courage award at the 2004 Teen Choice Awards. She continues to be an inspiration to those who have faced great hardships during the course of their lives.
Bethany Hamilton is a hero, because she never lost her courage and faith during her time of recovery. She used all her strength to fight for her life, get back up, and try again even though the odds were stacked against her. It showed that she has the courage and the willpower to overcome life's obstacles. Those qualities along with her faith makes her a true hero. She continues to be the best female surfer even with her "handicap."
The story of Bethany Hamilton is not finished. I am sure she will continue to contribute many more memorable accomplishments. No matter the outcome, she will forever be a "Soul Surfer", for the ocean may have almost taken her life away, but it didn't take away her faith, her courage, or her outstanding talent.
"…One thing hasn't changed—and that's how I feel when I'm riding a wave. It's like, here I am. I'm still here. It's still me and my board—in God's ocean!"
Page created on 12/19/2006 12:00:00 AM
Last edited 12/19/2006 12:00:00 AM
Related Links
Bethany Hamilton fan site
- -This website provides a lot of descriptive information about Bethany Hamilton and current news about her movie, book and surfing competitions