I would like [the West] to see us not as a country rather far away whose sufferings do not matter, but as fellow human beings in need of human rights and who could do so much for the world, if we were allowed.
In 1947, Burma achieved independence from Britain. Following the subsequent rise of a military dictatorship, many courageous people have worked for political freedom in Burma, including Aung San Suu Kyi. Aung San is a leader of the National League for Democracy (NLD), whose election in 1990 would have made her the first democratic political leader in recent history.
Daw Aung San Suu Kyi was born in 1945 in Rangoon, Burma. Her father, General Aung San, had been a national hero who had helped Burma to gain its independence from Britain. Her mother was Daw Khin Kyi. Aung San Suu Kyi was only two years old when her father was assassinated. She remained in Burma until her mother received an appointment as Burmese ambassador to India and Nepal in 1960. The appointment was in Delhi. Aung San Suu Kyi studied at Delhi, and later Oxford University, where she received a degree in politics, philosophy and economics.
In the years that followed, Aung San Suu Kyi worked as Assistant Secretary of the United Nations Advisory Committee on Administrative and Budgetary Questions and as a research officer for the Ministry of Foreign Affairs in Bhutan. There she married Dr. Michael Aris and returned to Oxford, England, where she worked and raised two children.
In March of 1988, Aung San Suu Kyi returned to Burma to care for her mother, whose health was failing. At the same time, students were igniting protest rallies against the Burma Socialist Programme Party (BSPP) regime. These protests coincided with the abdication of the chairman of the Socialist party, after which pro-democracy protests spread throughout the nation.
On August 26, 1988, Aung San Suu Kyi addressed a massive rally in Rangoon, calling for democracy for Burma. Half a million people participated in the protest. The military government responded by killing or incarcerating hundreds of dissident leaders. By that time, Aung San Suu Kyi herself had become a target, representing what the governmental powers considered a danger to their authority. In fact, the following spring, Aung San Suu Kyi was nearly assassinated by an army unit ordered to shoot her, until a major intervened at the last second.
Threat of assassination did not stop Aung San Suu Kyi from sending her message to anti-governmental dissidents. A few months later, without charge and without trial, Aung San Suu Kyi was placed under house arrest.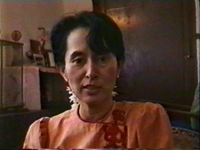 Despite the fact that the NLD won in a landslide vote during the May 1990 elections, the military junta refused to give up power, and Aung San Suu Kyi remained under house arrest. The UN Secretary General Perez de Cuellar, as well as human rights activists from around the world, called for her release, but the military refused to acknowledge them. They had been holding her in this way for more than two years when the Nobel Prize Committee announced that Aung San Suu Kyi had received the 1991 Nobel Prize for Peace. With the $1.3 million-dollar prize money, Aung San Suu Kyi surreptitiously set up a trust fund for the health care and education of people of Burma. Finally, after the military government kept changing its laws to allow for longer and longer detentions of its political prisoners, pressure from the outside world grew too great, and Aung San Suu Kyi was released on July 10, 1995, six years after her arrest.
Throughout the late 1990s, Aung San Suu Kyi was sporadically held under house arrest, and forbidden from traveling to meet her supporters or her party members. In a 1997 speech smuggled out from the country, as reported by the Free Burma Coalition, Suu Kyi said:
"The cause of liberty and justice finds sympathetic responses in far reaches of the globe. Thinking and feeling people everywhere, regardless of color or creed, understand the deeply-rooted human need for a meaningful existence...Those fortunate enough to live in societies where they are entitled to full political rights can reach out to help the less fortunate in other parts of our troubled planet. Young women and young men setting forth to leave their mark on the world might wish to cast their eyes beyond their own frontiers to the shadowlands of lost rights... Please use your liberty to promote ours."
From September 2000 until May 6, 2002, Suu Kyi was again under formal arrest. As she was released, she expressed the hope that Burma can have freedom for all political parties and all people.
On March 20, 2003, Aung San Suu Kyi was awarded the Newharth FREE SPIRIT OF THE YEAR Award, which is given annually to the person, "who has stirred our hearts by demonstrating the human capacilty to dream, dare and do."
She did not attend the awards for fear that she would not be allowed back into Burma. She continues to devote herself to building a democratic nation in Burma that respects and cherishes human dignity.
Page created on 8/10/2014 1:08:51 PM
Last edited 1/5/2017 11:39:31 PM