"Just an old sweet song, keeps Georgia on my mind" - From Georgia on My Mind by: Ray Charles
When I say the term hero, what comes to mind? You may think of someone you look up to, or you may think of someone like Spiderman. Heroes are not just cartoon characters that you read about in comic books, or see on TV. Heroes can be everyday people. They don't have to have superpowers, nor save people when they are in trouble. They can just be people who stand up for what they believe. A hero is someone who doesn't influence hate or violence, but who brings people together. A hero to me is someone who has the power to change the world.
Ray Charles Robinson, known to many people as Ray Charles was born in 1930. His mother gave birth to him in Albany, Georgia, but Charles grew up in Greenville, Florida. His family was very poor, and his father walked out on his mother when Ray was a child. When he was seven he witnessed his brother drown in a pail of water. Little did he know, this would be the last time he would ever see anything in his life. When Ray was seven he lost his sight due to Glaucoma.
His mother was determined not to let him be a cripple. She wanted him to have a better life than hers, so she sent him to the St. Augustine school for the Blind and Deaf. While he was there, he learned to read and write music in brail. He also learned to play the piano. When Charles was fifteen his mother died, and he was orphaned. Shortly after, he moved to Seattle and played piano for a local band at a club.
One of the most important traits to me in a hero, is that they are ambitious. Rays ambition lead him to sign his first contract with Swingtime records when he was seventeen. He made a couple R & B records, and then gave that up for Gospel style music. Fearing that Swingtime was still an R & B label, he signed with ABC. While at ABC he made songs that appealed to country, pop, jazz, and R & B audiences. He was the first black man to write and record a country song.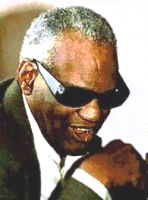 Charles is not only known for his music, but he was also known for standing up for what he believed. Standing up for what you believe in is a big part of being a hero in my opinion. If someone doesn't stand up for what they believe in, how can they be a hero? During the time of the Civil Rights Movement, Charles didn't play in Georgia, because it was segregated. As a result Georgia banned him, and his music for life. In the early ninety's Charles was granted the right to play in Georgia again, and his hit song "Georgia on My Mind" became the state song.
Heroes face challenges in everyday life. Ray Charles was no exception. He was a full blown heroin addict and battled with his addiction for many, many years. After hearing his son call him a drug addict, he went to rehab, and overcame his addiction. People told him he couldn't bring blacks, and whites together through his music, but he did. The Paparazzi stated Charles had an addiction, and couldn't overcome it, but he did that also.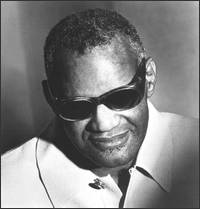 All through his life Ray Charles proved doubters wrong. He overcame his father walking out on him, death of his younger brother, blindness, poverty, death of his mother, segregation, and discrimination. He endured all of these obstacles, and yet went on to be one of the greatest musicians of our time, while he was battling a powerful drug addiction. His beliefs and the power of his music brought people together of different races, religions and backgrounds. His music spanned decades and is still popular in the modern world. This is why Ray Charles is my hero.
Rest In Peace Ray Charles- 1930 – 2004.
Page created on 5/16/2005 12:00:00 AM
Last edited 5/16/2005 12:00:00 AM
Extra Info
If you dont really know about Ray Charles or know what he has been through his whole life, you should check out the movie Ray.