Cyrus the Great
by Yasmine from Tehran, Iran
If your actions are upright and benevolent, be assured they will augment your power and happiness.
"Cyrus"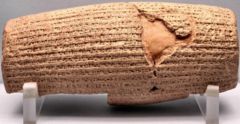 "…Now that I put the crown of kingdom of Iran, Babylon, and the nations of the four directions on the head with the help of Ahura Mazda(God), I announce that I will respect the traditions, customs and religions of the nations of my empire and never let any of my governors and subordinates look down on or insult them until I am alive. From now on, till (Ahura) Mazda grants me the kingdom favor, I will impose my monarchy on no nation. Each is free to accept it , and if any one of them rejects it , I never resolve on war to reign. Until I am the king of Iran, Babylon, and the nations of the four directions, I never let anyone oppress any others, and if it occurs , I will take his or her right back and penalize the oppressor… To day, I announce that everyone is free to choose a religion. People are free to live in all regions and take up a job provided that they never violate other's rights.

No one could be penalized for his or her relatives' faults. I prevent slavery and my governors and subordinates are obliged to prohibit exchanging men and women as slaves within their own ruling domains. Such a traditions should be exterminated the world over.
I implore to (Ahura) Mazda to make me succeed in fulfilling my obligations to the nations of Iran (Persia), Babylon, and the ones of the four directions."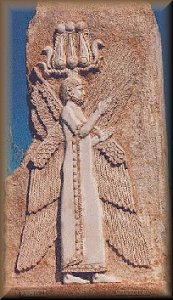 This is a part of the first Charter of Human rights known to mankind which is written on a clay cylinder by Cyrus the Great. Cyrus was named from Kuros, which means "like the sun". I think he is the one who really deserves this name as the man who brightened up our history. Cyrus (580-529 BC) was the first Achaemenid Emperor. He founded Persia by uniting the two original Iranian Tribes- the Medes and the Persians. When he conquered the Medes, he developed a new government. Because of these victories he headed to the west. When he gained the victory in the Babylon, the Jewish Community called him the liberator and therefore he allowed them to return to the Promised Land. He is my hero, all of the Iranian's hero and the hero of every other person who believes in man's freedom and human rights.
Thinking about him makes me try to be a helpful person for my country. I admire him, not as a mighty king or a conquerer, but as an ideal ruler; someone who gave freedom and independence to his people. He gathered a huge amount of people with different languages and religions. He allowed every group to keep their own religion as he himself had converted to Zoroastrianism and kept his faith strongly.
Zoroaster had said: "Do not suppose, my dearest sons, that when I have left you I shall be nowhere and no one. Even when I was with you, you did not see my soul, but knew that it was in this body of mine from what I did. Believe then that it is still the same, even though you see it not."
History remembers Cyrus as a wise and liberator leader who brought peace to mankind and never used his power against human rights. According to Herodotus he was a law giver who appreciated people's beliefs and opinions. People of Persia called him "Father" and the Greeks, whom he conquered, saw him as "a worthy ruler and lawgiver" and the Jews regarded him as "the Lord's anointed". We love him as one of our great leaders because he loved his - and our - country and gave us the gift of freedom.
"May God protect this land, this nation, from rancor, from foes, from falsehood, and from drought"
"Cyrus the Great"
Peace be upon him…long live Iran and the memory of Cyrus.
Page created on 7/21/2013 12:31:55 PM
Last edited 7/21/2013 12:31:55 PM